If you're interested to volunteer with us in the UK, please leave us your details.
AMURT Nigeria Emergency Treatment for New Mothers, Babies and Children at AMURT Nigeria's clinics
Can you help us raise US$100,000 to provide emergency treatment to the next 200 new mothers, newborns and children whose families can't afford it?
For more info and to donate: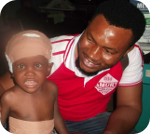 Donate here
Donate Now and make a difference to someone's life forever
You can be sure that your money will go to where it is needed, whether it is to help us save lives during a disaster, provide warm nutritious meals to the homeless, treat pregnant, new mothers and babies in poor remote parts of Nigeria, support pregnant and refugee mothers to find their feet in Greece or help a child who is disadvantaged and in need of love and support.
SIGN UP FOR AMURT UK NEWS
Newsletter Archive
Who We Are
We work with local communities to relieve immediate suffering in times of disaster and crisis and empower people to lead healthy, happy, environmentally sustainable lives.