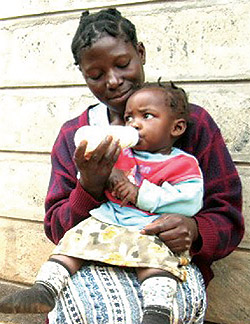 AMURT Kenya has been active since 1993. The chapter has delivered a myriad of projects ranging from HIV-care and community acceptance, youth education, youth job training, emergency mass-feeding and long-term health/social enterprise initiatives.
Read more about these projects here: www.amurt.net/kenya-2011
AMURT Kenya works in conjunction with the Abha Light Foundation on a variety of health interventions, the most recent being the Abha Light Spirulina project. Spirulina is a blue-green algae that thrives in warm alkaline fresh water. It is hailed as the 'food of the future' because of its high 60-70% protein content and package of essential amino acids, vitamins, minerals and iron in an easily digestible form.
To address malnutrition, particularly amongst children, in 2011 Abha Light and AMURT Kenya started a spirulina growing project in the rural area of Wote. They are currently in the process of developing a social enterprise model where the spirulina crop will be sold to the health food industry with proceeds funding the distribution of spirulina to malnourished children.
Read more about the Abha Light Foundations Spirulina Nutrition Project here: http://www.abhalight.org/childrens-health-care/
AMURT UK has assisted AMURT Kenya with the provision of small grants.
Donate: http://www.totalgiving.co.uk/appeal/spirulina-nutrition-project