VIDEO – Nandita Lovage of Slow Burn Film Productions (slowburnfilmproductions.com) has directed and produced a film depicting the work we have been doing in response to Covid-19 in London:
AMURT UK serves homeless people, vulnerable children, families and households who are experiencing food poverty in Hackney, Islington and Camden. Services are run almost exclusively by volunteers. Since the onset of the Covid-19 pandemic AMURT UK have significantly increased its services to meet the nutritional needs of these beneficiaries and the number of volunteers we work with has tripled.
We run two main programmes; a hot nutritious vegetarian meal service and production of nutrient dense snacks to beneficiaries who have difficulty accessing healthy affordable food.
1) Nutritional Support Packs (called 'Go Bites')
Our Nutritional Support Packs (NSPs) are protein and nutrient dense to enhance nutrition and bolster the immune system of homeless and vulnerable children, families and households who often have poor nutrition and may have compromised immune systems.
We use high quality, nutrient rich ingredients and distribute the NSPs to beneficiaries in Hackney, Islington and Camden through our own distribution networks and through our partners, who include Streets Kitchen, North London Action for the Homeless, St John's Evangelist church, the Round Chapel and The Margin's Project.
We prepare and package the NSPs on Mondays and Tuesdays in our centre on Cazenove Road, Hackney. On average, we distribute 1000 NSPs a week.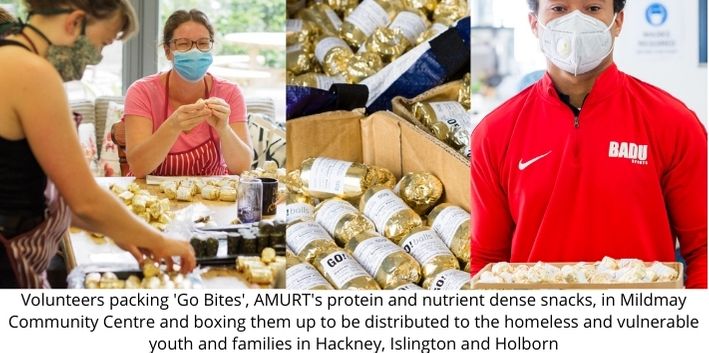 2) Hot nutritious vegetarian meals
We produce hot, tasty, nutritious vegetarian meals on Thursdays in Mildmay Community Centre Kitchen. Most of the raw ingredients come from City Harvest or the Felix Project who distribute food that would otherwise go to waste.
In the morning we distribute to local vulnerable families and households, to school children and to the homeless on the border of Islington/Hackney at Mildmay Community Centre.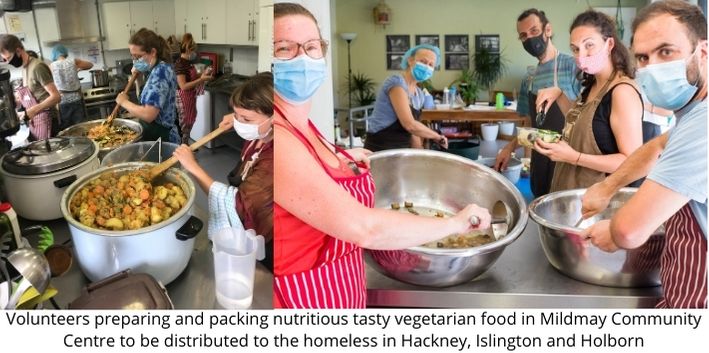 In the afternoon we prepare hot meals to be distributed by us, to the homeless in Holborn, and by Streets Kitchen, to the homeless at Hackney Town Hall.
The food is always packed in insulated boxes and served within 3 hours.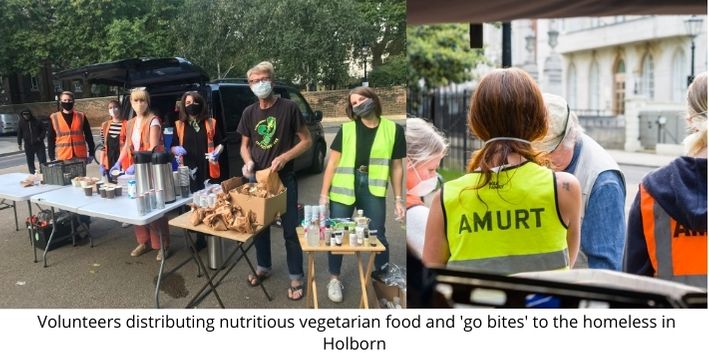 Covid-19 safeguarding measures
As a result of the Covid-19 crisis we have implemented more rigorous hygiene measures in line with government recommendations. All our volunteers are inducted in these measures at the beginning of every production. They wear Personal Protective Equipment (PPE), sanitise all areas regularly and endeavour to ensure that social distancing rules are applied.
We have received a good deal of support for our programmes from several funders who we are very grateful to and without whom we would not be able to reach the number of beneficiaries that we currently do.
We give sincere thanks to the following funders: