Every week AMURT UK feeds 150/200 people in Hackney and Holborn, central London. Most are homeless, have fallen through various social safety nets, or are otherwise affected by the cost-of-living crisis. The harsh reality of life on the streets or being jobless in one of the most expensive cities in the world means a warm, nutritious meal can make a world of difference.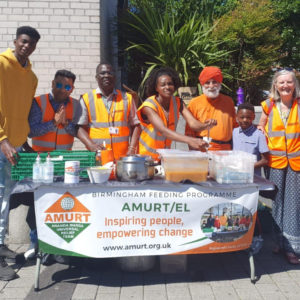 One Saturday a month, our AMURT team prepares and distributes food for the homeless, those in insecure accommodation or those who are otherwise vulnerable in the Birmingham city centre. The programme started in March 2022 and fed about 50 people. The number of beneficiaries has been rising each month to the point where from August 2022 we are feeding up to 150 people.
We developed Vita Bites as a social enterprise during the covid-19 pandemic to nourish people experiencing homelessness or food poverty with tasty energy bars full of nutrients and proteins.
Not-for-profit vegetarian/vegan health food shop Food For All has served the people of Hackney since 1976. Committed to assisting the local community achieve optimum health and wellbeing via natural means, we stock one of the widest selections of therapeutic/culinary herbs and tinctures in London.
Healthy Cooking and Eating (London)
Cooking classes at community centres in deprived areas of London will help young families and others learn ways to save money and provide their families with more nutritious and tasty food.