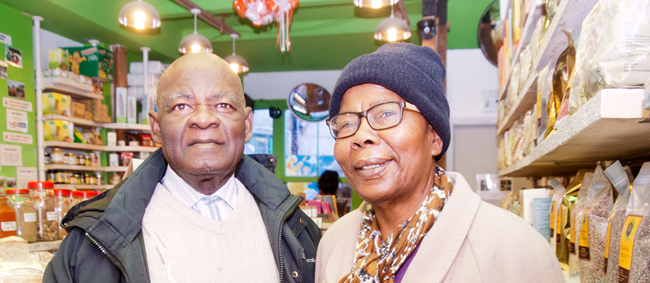 Not-for-profit vegetarian/vegan health food shop Food For All has served the people of Hackney since 1976. Committed to assisting the local community achieve optimum health and wellbeing via natural means we stock more than 250 therapeutic/culinary herbs and tinctures.
Our 1890-strong product range includes wholefoods, superfoods, dry and fresh goods, supplements, body care and household products. We support new ethical entrepreneurs and stock locally made artisan products such as soaps, shea butter, preserves and ferments.
Our staff are helpful and knowledgeable about the products in store with many of them nutrition or herbalism trained.
The store is renown for it's unique community atmosphere and diverse customer base – some of which have been shopping with us for nearly three decades! It is common to find staff and customers engaged in lively conversation swapping tips about nutrition, health care and local news.
Food for All was set up by Govinda and Meeta Lovage, followers of Ananda Marga, and today is a company limited by shares held in trust for AMURT UK.
Profits from the store go towards supporting AMURT UK's local projects and international AMURT projects in Africa and Eastern Europe where a small grant can have a large, often life saving impact.
Location: Food For All, 3 Cazenove Road, Stoke Newington, London, N16 6PA
Tel: 0208 806 4138