HAITI NEEDS YOUR HELP NOW!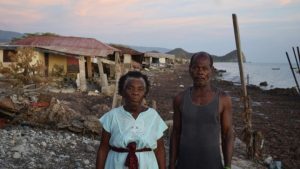 Philippe and his mother Linda are part of a family of eight that were suddenly left homeless by the devastating 7.2 earthquake that hit southwest Haiti on Saturday, August 14th. Since then they have been sleeping outside under old rusted metal sheets. Philippe told our partner from AMURTEL Haiti about his struggle to obtain a plastic tarp, as there are none available on the local market with so many people urgently in need.
Our partners from both AMURT and AMURTEL Haiti are already on the ground in Les Cayes, meeting Philippe and other community members to address their most critical needs.
Your donations will provide Philippe and about 5000 displaced people with durable, high-quality plastic tarps that will be used to construct temporary shelters that can resist strong winds and rain. One of these heavy-duty tarps costs 21 USD, so your donation of 100 will help 50 people, and with 1000, you will give safety to 500 people. Already tropical storm Grace hit the country, causing flooding and mudslides while families like Philippe's are huddled in exposed fields, or still desperately searching the rubble for survivors. More hurricanes are coming, so quickly constructing basic shelter is a first priority for Philippe's family.
An equally important priority is to ensure food distribution and community canteen programs, through our partnership with the World Food Program.
Once these basic minimum needs are met, your support will be used to set up Child-Friendly Spaces (CFSes) where you can provide children affected by the disaster with free hot meals and a safe place to process their trauma in healthy, resilient ways. Additionally, microcredit programs will be offered to women like Linda in the hardest-hit areas, providing a tool for families to get back on their feet and provide for their future.
Our team has been established in Les Cayes and the surrounding areas for the past five years, supporting the rebuilding efforts after the area was flattened by Hurricane Matthew in 2016. It is clear we are facing a long and challenging period of humanitarian aid and support ahead, made more difficult by the deteriorating security situation, general instability of the country, the current spike in Covid, and the impending hurricane season.
Your immediate action now will bring safety and hope to thousands of children and families like Philippe's during this time of devastating loss. Please know that your help will truly make a difference.
Donations are welcome at the choices below:
UK Projects
Implementing Partner Projects