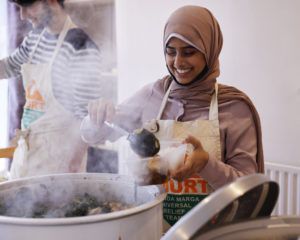 AMURT UK helps to reduce food poverty amongst the homeless and other vulnerable individuals, families and households
At our London Feeding Programme teams of dedicated volunteers lovingly prepare and serve warm, nutritious vegetarian meals in Hackney and Camden, London. Most of the raw ingredients come from City Harvest or the Felix Project who donate food to us that would otherwise go to waste.
Come rain or shine the food is then taken to our own distribution sites in Holborn and Hackney and served by our smiling volunteers or transported to
our valued partners
who serve our cooked meals at their own distribution sites in Hackney. AMURT UK has been feeding homeless people in Holborn since 2011.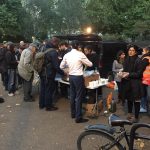 The London Feeding Programme is run almost exclusively by volunteers. We have 50+ active volunteers at any one time. Over 90% of them have experienced some challenges to their mental health and wellbeing in recent years and find that volunteering for AMURT gives them a sense of purpose, community and improved self-esteem. They are able to access meaningful, well-defined volunteering opportunities, training and a local support network, enhancing their employability with new skills and experience.
When & where can you collect our meals?
Every Thursday you can collect our meals from our various distribution points:
AMURT, 3A Cazenove Road, N16 6PA –
from 12:30pm
and again
from 5:30pm
onward: hot vegan meals & (evening) free fresh vegetables The Greenhouse GP surgery, 19 Tudor Rd (London Fields): Pre-packed Hot Meals and healthy VitaBites energy bars –
1:30pm onward
Health E1 Homeless Medical Centre, 9-11 Brick Lane (Shoreditch): Pre-packed Hot Meals and healthy VitaBites energy bars – 1:30pm onward
Lincoln's Inn Fields (Holborn): Pre-packed Hot Meals, Tea & Coffee, fruits and snacks – from
6:30pm-7:30pm
If you are looking for other support with the cost of living crisis in Hackney please refer to this Hackney Council resource.
Testimonies from beneficiaries & volunteers
Quotes from our homeless beneficiaries about our programme and the nutritious food we serve:
"Your people treat others with dignity and respect – It's how it should be done and it is rare. The food is superb and healthy."
"I am lost for words. You are awesome. It's a great service. I feel energised by the food. I live on my own and it's a good connection to have. It makes me feel connected. It is certainly the highlight of the day on Thursdays, and it is one of the highlights of the week!"
"This service is essential for people like me who have fallen on rough times. A lot of us here have had homes and jobs but have lost them due to circumstances. This provision is vital till we pick ourselves up."
"For people in our situation this meal can be the difference between to be or not to be – especially when it's cold."
"I can't afford to get sick living on the street so good food is a priority."
"This is healthy eating, not just 'being fed', this is interesting and positive."
"It puts food on the table, and makes me happy."
"It makes a huge difference because it gives me something to eat."
Quotes about the benefits of volunteering:
"Volunteering here is absolutely life changing. I'm a recovering addict, so when I first started at Alcoholics Anonymous and I didn't know how to do life sober, the first place I realized I could be with people and be sober was here."
"I've learned a lot from everyone — from chopping skills, from cooking, or just life experiences, really."
"I'm quite a shy person and I'm not very open. But once you come in here, you come out of your comfort zone and people, kind of, lift you up. I can see [this impact] at my university. I'm a bit more open, not as shy, I want to raise my hand and say an answer. . . approach somebody in the corridor … and say hello."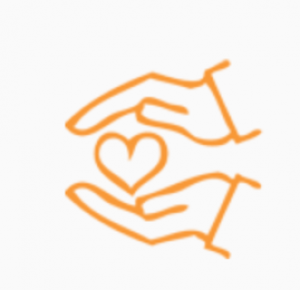 Join our team of volunteers and help cook and distribute meals to those in need, or provide them with information about where to find other support.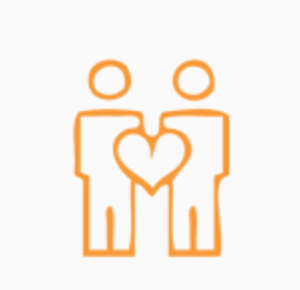 Volunteer as a group with your colleagues or friends! It is a great way to spend quality time together while doing something meaningful for others.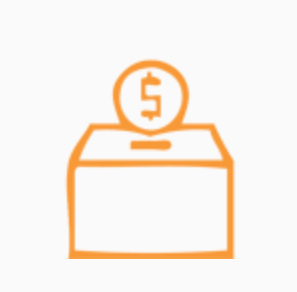 Give a donation or get your company's CSR department to support our work! We welcome monetary or in-kind support...
Your one-off or regular donation will make a difference to the lives of the homeless and vulnerable! The success of our feeding programme relies on dedicated volunteers and individual donors.