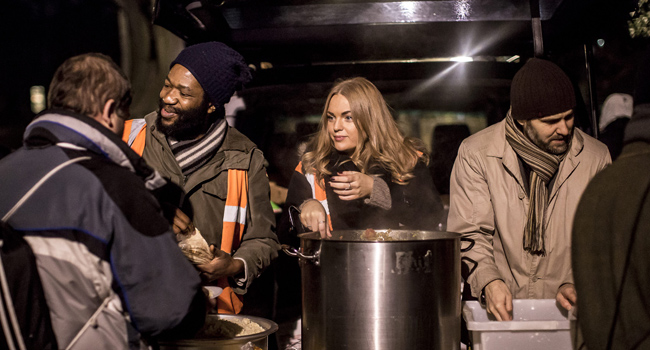 AMURT UK has been feeding homeless people in Holborn since 2011. Currently we feed between 50-80 people each week. Most of the people we serve are homeless or have fallen through various social safety nets.
We receive food donations from organisations who rescue food from going to waste and our teams of dedicated volunteers spend the day chopping, stirring and seasoning. Come rain or shine the food is then taken to the site and is served by our smiling volunteers.
The covid-19 crisis makes things even worse for homeless people. Many have compromised immune systems, poor nutrition, and hygiene and are more susceptible to the virus and to developing complications. It's impossible for them to maintain hygiene, social distancing and self-isolation measures in place as they have limited places to go. With the public home they have lost their little income from begging or selling the Big Issue.
Being able to get food has become more difficult with stores closed, less public around, food banks running low and less excess food being thrown by supermarkets.
Our beneficiaries are relieved we are still running and that they are guaranteed a warm nutritious meal. We are finding that it is often the only warm, cooked meal they've received for days at the moment.
We have had to change the way we distribute food in our Feeding Programme. We must package food individually to hand out to beneficiaries instead of serving meals onto plates.
We have to enforce 2m social distancing in our queuing system and regularly sanitise serving areas. We need to protect both beneficiaries and volunteers by ensuring volunteers wear Personal Protective Equipment.
Testimonies
Michael: "For people in our situation this meal can be the difference between to be or not to be – especially when it's cold."
Vernom: "I've come to the feeding ever since it started. The food is excellent and the people very nice. Many of us walk here from a long way away so it's important that they can always be here."
Lennard: "The food is very good and nutritious. If it's possible I wish they could come every day. Thankyou and keep up the good work."
Thomas: "I have no money and can't find a job. For me right now the most important thing is to be able to eat. I feel secure knowing that they're going to be here each week. When I get a back on my feet with a job I'd like to help the group to say thankyou."
Sham: "This service is essential for people like me who have fallen on rough times. A lot of us here have had homes and jobs but have lost them due to circumstances. This provision is vital till we pick ourselves up."
Volunteering and donations
The success of our feeding programme relies on dedicated volunteers and individual donors.
Please click here if you would like to find out more about volunteering for this project.
Please click here if you would like to donate a one off amount or a regular donation to enable our feeding programme to continue to feed the homeless and touch lives.