One of AMURT's great strengths is its people. Its people are concerned citizens attracted by the AMURT principle that compassion for everyone and everything is the starting point of relief and development. Many are full-time volunteers who provide thousands of hours of volunteer time to keep our administrative costs low. Contact us if you wish to know more about our volunteer placements. For volunteering overseas visit KidsWorldWide.
AMURT Volunteer Brand Strategist and Marketing Consultant
Are you a Branding and/or Marketing professional who would like to put your skills to use in a small charity enterprise and make a real difference? We are looking for someone who has experience of bringing new products to market to help us launch a new food enterprise. This will enable us to continue feeding the homeless and vulnerable in North London.
The project
We have developed a raw protein and nutrient dense snack that we give out to the homeless and those who are experiencing food poverty in North London. These snacks are delicious, healthy and supporting the vulnerable. We would like to start selling them to the public to make this charitable activity self-sustainable. For every snack sold another will be given to a vulnerable person. This is a new enterprise for us.
What you will be doing
The successful candidate would work alongside a small, dedicated team and be responsible for:
Building the narrative of our project for marketing efforts by finding its most marketable identity/story and telling it through the branding and digital strategy
Helping develop clear and consistent content strategy that proactively allows AMURT to own its narrative
Using skills and experience to help devise a strategy to market the product
What we are looking for?
Ideally, the successful candidate will have the following experience:
Experience of brand marketing
Experience in developing and executing fully integrated marketing and communications plans
Time
We are looking for someone who is able to commit to seeing this project through. We imagine it would be a few hours a week over some months. As the enterprise develops it would be desirable to have someone who can provide ad hoc ongoing support but this is not a requirement.
Place
Our office at 3a Cazenove Road, N16 6PA and online. We expect a lot of it to be able to be done remotely but it would be helpful for the successful candidate to be able to visit the project and meet the team occasionally in person.
How to apply
Please apply via the recruitment page of our website
Any questions – please email Natasha at volunteers@amurt.org.uk or call 020 8806 4250 (Tue, Wed)

AMURT London Monitoring and Evaluation Officer (Volunteer role)
Are you a social researcher who would like to put your skills to use in a small charity and make a real difference? We are looking for an experienced researcher familiar with participatory evaluation who can help us demonstrate the impact and benefit of our services to the homeless and vulnerable communities in and around Hackney, Islington and Camden.
What you will do:
Assist us in designing and planning a monitoring and evaluation strategy
Implement data collection methods to measure the impact of the work we do, the difference we make to people's lives and to identify other needs of our beneficiaries
Analyse qualitative and quantitative research data
Evaluate services based on the data you've analysed & make recommendations for improvement
What we are looking for
Ideally at least 3 years of social research experience including participatory research
Experience in monitoring and evaluation work for charities
Real motivation to help a small local charity demonstrate their impact and improve their services
Time
Commit to seeing this project through which may take a few hours a week (mostly Thursdays) over some months.
Place
Our office at 3a Cazenove Road, N16 6PA and at our, distributions in Holborn, Islington and Hackney

More info
Energy Ball Production
Vulnerable families and the homeless have been hit the hardest by the COVID-19 pandemic. Often unable to self-isolate and with limited to no access to a healthy diet, we are providing them with nutritious 'energy balls'.
What will you be doing?
You will be assisting with the kitchen production of 'energy balls'; a healthy snack, packed with nutritious ingredients. Duties will include making the mixture, packing and labeling.
What we are looking for?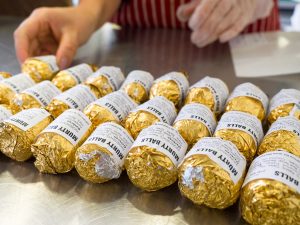 We are looking for volunteers who enjoy working in a team and have a 'can do' attitude. No previous volunteer experience is needed for this role, but experience of working in a kitchen would be beneficial.
When?
Mondays 13:30 – 17:00
OR
Tuesdays 9am – 12:15pm OR 13:45 – 17:00
Where?
In our kitchen at 3a Cazenove Road, N16 6PA.


London Feeding Programme food prep
Cooking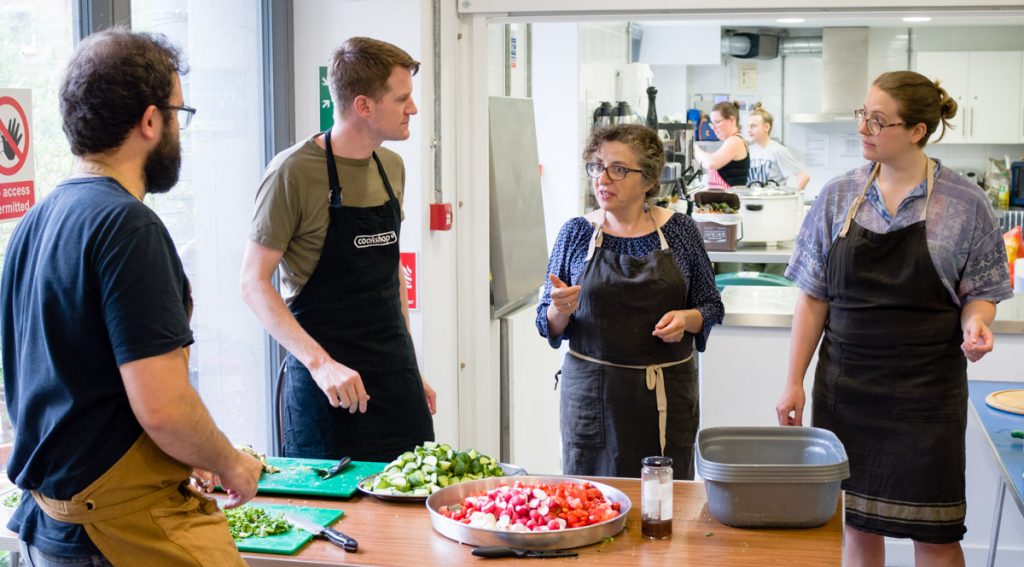 Enjoy cooking? Why not join one (or both!) of the communal mass peel, chop and cook sessions for vulnerable children, their families and the homeless. Sessions run from 9am-1.30pm and again from 2.30pm-6pm. A fun morning or afternoon with the very rewarding result of having helped prepare meals to feed the most at at risk members of our community.
What you will be doing
You will be assisting in the kitchen with the preparation of hot vegan meals. Duties will include
chopping vegetables, cleaning pots, surfaces etc. and having a good time!
What we are looking for?
We are looking for volunteers who enjoy working in a team and have a 'can do' attitude. No previous volunteer experience is needed for this role, but experience of working in a kitchen would be beneficial.
Time
Every Thursday: AM prep 9:00 – 13:30 OR PM prep 13:30 – 17:30
Place
Mildmay Community Centre, Woodville Road, Mayville Estate, London N16 8NA