Vita Bites – there is a good deed in every tasty mouthful!
What are Vita Bites?
Vita Bites are an energy snack with a social mission to create positive change. Handmade with natural ingredients, they are bursting with goodness.
Vita Bites were developed as a charitable response during the Covid-19 pandemic to nourish people who are experiencing homelessness or in chronic food poverty through AMURT UK's London Feeding Programme. They were carefully created to provide sustenance, nutrients and proteins. Full of vitamins and minerals, they also help boost the body's natural immunity.
They sound great, but can the rest of us get some?
The positive response to over 40,000 Vita Bites caused us to widen our horizons and offer Vita Bites to the wider community. And it prompted us to think creatively and set up a social enterprise to spread the benefits of this super snack across London and to look for ways of sharing their cost and spreading their benefits more widely.
And who are we?
Vita Bites' founding charity, AMURT, has worked with people in vulnerable situations to break the cycle of poverty, crisis, and despair for more than 50 years. While its focus has been on disaster relief and grassroots community development abroad, it launched its UK branch in 1986 and its now well-established London Feeding Programme started in 2011.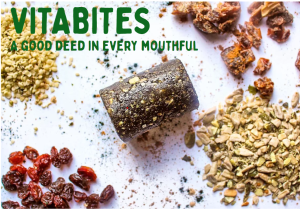 AMURT UK worked with experts to develop this highly nutritious energy ball as the need to provide people with a sustaining and portable natural snack became more crucial at the beginning of the pandemic. The energy bites have been distributed via street outreach feeding programmes, foodbanks, NHS surgeries and other community initiatives for people experiencing homelessness and food insecurity in the capital.
Vita Bites, a recent winner of the Investec Business programme, was set up in 2021 to take our tasty energy snacks to the wider community.
What's the plan?
As Vita Bites are made by hand, there can't be a Big Bang. We will be distributing the super snack to independent cafes and activity/yoga centres, gyms and local festivals in London who want to help spread this good and these goods. We will also be taking the message to the corporate world as we know Vita Bites can boost employee productivity; help people meet critical deadlines and stay on focus through critical or lengthy meetings. We hope enlightened corporates will also see Vita Bites as a way to inspire and bolster their client and staff engagement as their support means those who are homeless or are facing chronic food poverty can continue to share the benefit of this super snack.
How can I help?
Thank you for offering.
If you are an independent cafe activity/yoga centre or gym and want to offer Vita Bites, just let us know and we'll drop by with some samples
If you are a corporate, we are ready to come and meet with you, providing more information and samples.
If you are a charity or a prospective donor, you are welcome to see us at work and sample Vita Bites.
So what should I do?
Please email us on general@vitabites.org.uk