AMURT Nigeria has just released their annual report for 2017 outlining all their amazing work and achievements they have made mainly in the area of maternal and newborn health. The staff works tirelessly to save lives and demonstrate huge commitment to their patients. One of the key achievements is that the maternal mortality ratio in their project area is now 215 deaths in every 100,000 births, which is a huge improvement from the 1000 deaths in every 100,000 when they started working in Ebonyi state in 2010. Read on to get some more highlights and a link to the actual report.
Full story:
AMURT is building a sustainable and replicable model for meeting the primary and maternal healthcare needs of rural communities through a partnership involving the communities, grassroots organizations, private sector and government.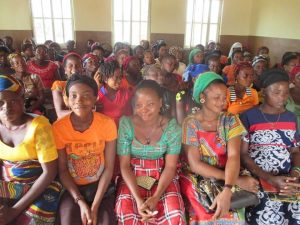 Antenatal services
In 2017 AMURT provided antenatal care to 5088 women. The number of new ANC attendance rose by 17% and in some heath centres they were seeing up to 200 women in an antenatal clinic. They have 4 portable ultrasound machines and women are scanned for free which is not routine at most other antenatal services in Ebonyi State. Each AMURT health centre has a laboratory which conducts all routine antenatal tests on site.
Deliveries
2316 babies were born at AMURT assisted health centres in 2017 and 4.1% of these were by C-Section, which is significantly low in comparison to the UK's C-Section rate of 25%. AMURT works hard to encourage women to give birth at a delivery centre with a skilled birth attendant. Out of all the births from within AMURT's project areas 77% took place at a health centre, which is impressive when you compare it Nigeria's national average of 27.6% in rural areas.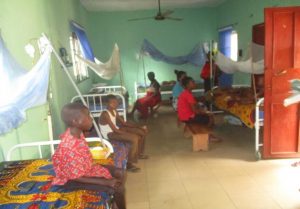 Health Centre Upgrade
Odeligbo Health Center in Ikwo was upgraded to a CEMONC center (Comprehensive Emergency Obstetric and Newborn Care). Patients travel long distances to reach the centre and it has now established itself as one of the highest functioning hospitals in Ebonyi State. 15 C-sections were carried out between August when it opened and the end of the year and it has been running at full capacity for most of the time it has been open.
New Health Centre opened
On 23 November, AMURT opened a new health centre at Mgbalukwu, Obeagu Ward, Isu Community in Onicha LGA after being invited by the Isu Community. As part of AMURT's unique model the community mobilized themselves and took responsibility for all the labour on the renovation, the government has posted 6 health workers there and AMURT has sent additional staff to assist. This new health centre is doing very well with numbers increasing all the time.
Family Planning
AMURT has made great strides in helping women in the project areas understand the health benefits of proper child spacing. In the AMURT assisted health facilities, the rural population now has access to counselling and a variety of contraceptive options. In 2017, 261 women accessed injectable contraceptives, an increase from 114 in 2015 and 836 chose implants up from only 16 in 2015. They did 16 IUCDs and 4 bilateral tubal ligation. Hundreds more chose natural birth spacing methods.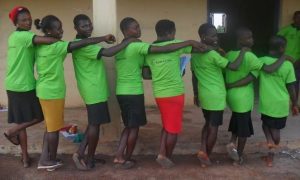 Reproductive Health education
In 2017 AMURT mobilized 10 health rallies. The health rallies provide opportunities for questions, answers and a dialog between the community and the health center. An additional 40 village outreach meetings were held. Family planning was the focus for AMURT health education in 2017.
AMURT has also set up reproductive health education for young people between 14-19 years old and through there programme 'I Need to Know' over 400 young people were reached in 2017.
If you would like to read the report in full please click here
AMURT Foundation Nigeria 2017 ANNUAL REPORT – March 2018
If you would like to donate to this inspiring project please click here